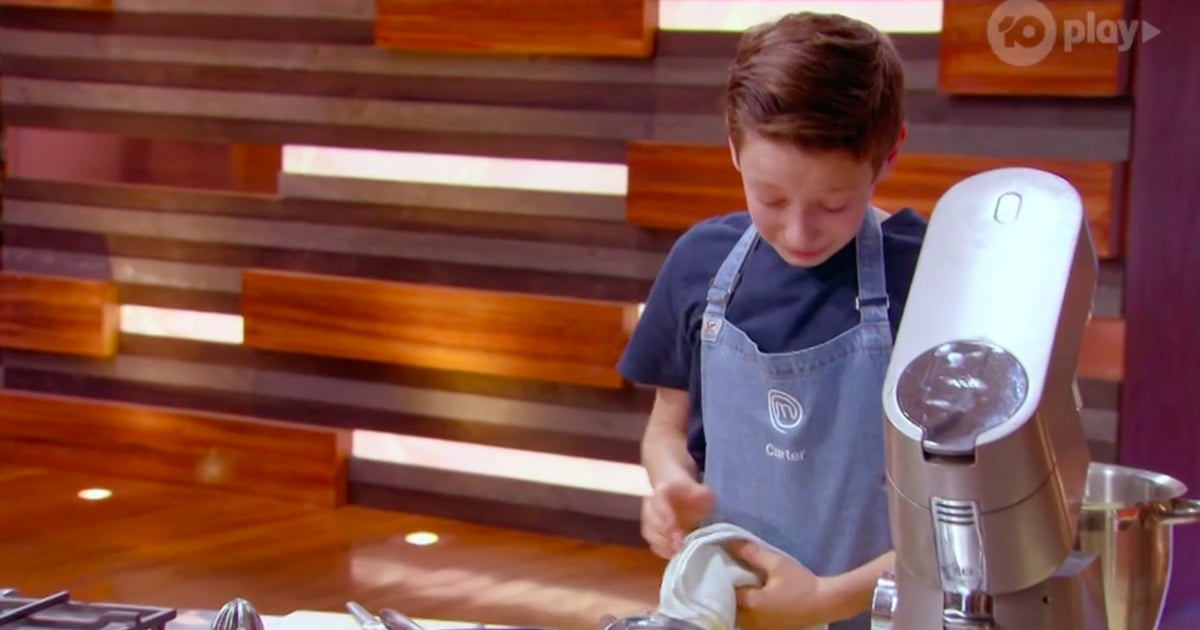 Junior MasterChef finalist Carter broke down in tears in last night's Semi-Final, as he struggled with Kirsten Tibballs' lemon meringue tart Pressure Test.
The contestants had 135 minutes to recreate Kirsten's intricate and layered tart, which featured a spiced shortbread casing, roasted white chocolate and Rice Bubbles, salted caramel, lemon cream, a lemon cake and meringue sticks.
Carter started falling behind when he spent too long at the very start of the cook on his tart shell. Becoming intimidated by the other contestants' being so ahead and overwhelmed by just how many elements he had left to make, the 11-year-old teared up as he cooked. Judge Jock Zonfrillo was at his bench to assure him, "It's alright, buddy," and talk him through his next steps.
Jock clearly wanted to reach out and hug Carter (but couldn't because of COVID-19), so he tried to encourage him to tackle "one thing at a time". "You're good at this," Jock said, adding that the young chef was letting the Pressure Test situation get to him. "You've just got to think, I'm just making a lemon meringue pie. It's easy."
"Go Carter, you got this!" Filo encouraged from his own bench.
Carter recovered, whispering to himself as he cooked, "I will not quit." We all need to learn to persevere like Carter!
Later, Carter realised he had forgotten to add melted butter to his cake batter too, but he didn't have time to start the element again, so he just kept cooking. He celebrated once he had finishing all the components of his dish, telling the camera he'd decided to "keep focused and stay positive".
During tasting, Carter explained his mindframe during the difficult challenge. "In my head I was saying to myself, 'You can do this, don't give up, don't give up.' But I feel like I've given it my absolute best and I hope that the texture and the flavours are there," he grinned.
But his attention to detail meant that he ended up serving one of the three best dishes of the night, with Kirsten praising his "textures and flavours". Kirsten and Jock noticed the cake was a "little bit dry" (the lack of butter!), but Jock said that it was barely noticeable. "If you were to stand back and relook at his cook, from beginning to end, you would not expect something to be that good at the end!"
When it was announced that he would be going into the Finals, Carter bent over in surprise and relief. "I can't believe it, but I'm also really sad for the two that do have to go because everyone is really, really good at cooking!"
People at home both couldn't bear to see Carter get so emotional and were proud to see a young boy brave enough to cry on screen in a stressful situation, and prove how resilient he is.