Poland's MMJ Market Small, But Growing Quickly
The local market for CBD products in Poland is growing quickly, though it remains a small one. Poland, home to 36 million people, is seeing the rapid rise of CBD products especially used for inhalation and vaporization.
The medical marijuana market of Poland is still in its early stages, but because of its fast rising popularity, experts predict that low amounts of recreational marijuana and decriminalization may not be too far away. "We can distinguish the conscious consumers who often chooses CBD oil for their therapeutic properties which is part of the wider trend for better health and wellbeing. These consumers usually prefer shopping in specialized stores including online CBD stores, health stores or pharmacies, where they can consult a specialist," explains Purehemp.pl founder and CEO, Konrad Dziekan.
Currently, CBD is legal in Poland though it still cannot be marketed claiming to cure any illness. The situation regarding legalities is similar to most other countries in Europe. Businesses are not allowed to mention that their products have any health benefits.
The two biggest players right now over there are Sequoya and HemPoland, two companies that have a significant amount of international finance backing. Some local companies are also working on coming up with high quality hemp products at affordable prices.
Majority of Germans Still Against Recreational Cannabis, More Money In Private Sector
A poll conducted last December reveal that a small majority of German voters are still against legalizing recreational cannabis. The results of the survey together with a recent vote in the federal parliament of Germany show that anyone who was interested to make money from legalizing recreational cannabis should postpone their plans for now.
The results of the poll were rather slim: when asked if they think cannabis should be legalized and regulated for adults consumption such as what is going on in Canada, 46% said yes while 51% said no. However, the percentage of people who support legalization has improved in 2020 compared to results in 2019. They also found that there was more opposition among women as well as in eastern Germany, and that the older the respondents, the more they opposed legalization.
Last October, the parliament rejected recreational legalization.
Meanwhile, German entrepreneurs see more money to be made in the private cannabis market. Previously, it was thought that the German MMJ market was more lucrative because health insurance providers were expected to cover the cost of medicine but they have found that the private market could be even more attractive.
Take Algea Care for instance, a German company focused on telemedicine which was established in June 2020. By September they began prescribing cannabis to patients, and by December they had over 500 patients who were already receiving prescriptions. "Supporting patients along every step and taking away tedious tasks from doctors ultimately resulted in drastically improved satisfaction for both patients and doctors," said co-CEO Julian Wichmann to MJBizDaily.
Some 10% of the population already have private health insurance but for cannabis companies who want to make money from private MMJ prescriptions, the market size is much larger than that. This is because statutory health insurers who are responsible for insuring most of the population in Germany reject a significant number of applications for reimbursements, causing patients to use their own money to buy from the private market instead. There are also many patients who are turned off with the process of trying to obtain cannabis due to the many challenges involved.
France Opens Public Consultation On Cannabis Legalization
France still imposes some harsh penalties surrounding cannabis use, but they are the biggest cannabis consumer in all of Europe.
Because of this irony, the law has clearly failed to provide effective and realistic regulations, prompting a group of MP's to launch a public debate on the topic. On January 13, 2021, the MP's which come from a wide range of the political spectrum consulted with over 175,000 through the Assemblee Nationale website and analyzed it with around 30,000 responses.
The consultation will continue until February 28. They have two primary objectives: to get a better understanding of the French people's opinions about cannabis, and to learn what the people want in terms of government policies surrounding its use. The forum uses several questions such as, "Do you think current policies on cannabis are effective in fighting against drug trafficking," "Do you think the risks associated with cannabis are the same as, more serious or less serious than those associated with alcohol consumption?," and others.
"We're using this questionnaire so that we have access to more data on what people think than we usually get from opinion polls," explains Caroline Janvier, who is an MP in the La Republique En Marche party with President Emmanuel Macron. She is also a member of the parliamentary committee with cannabis. "Perhaps it will confirm our belief that France's political class is less sympathetic to the use of recreational cannabis than the public," she adds.
A 2016 poll revealed that 41% of the population from the age of 15 to 64 reported consuming cannabis at least once, whereas the average European consumption rate is at 18.9%. "Cannabis use is so widespread in society; we have to respond to that at a political level," says Robin Reda, MP from the right-wing group Les Republicains. "No one should be happy with our current policy when this repressive stance is clearly not working."
"Our primary goal is to change the terms of the debate," says Janvier. "Many politicians don't think of it as much of an issue, but France spends €568 million per year on the fight against cannabis trafficking."
"There's a big gap between what MP's have been willing to do and what the government has been willing to do," adds Reda. "The amendment on experimenting with therapeutic use is supposed to come into effect, but I'm convinced that the government will do everything it can to drag its feet and ensure that as few people as possible get to use marijuana on this experimental basis."
EUROPEAN CANNABIS NEWS, READ MORE…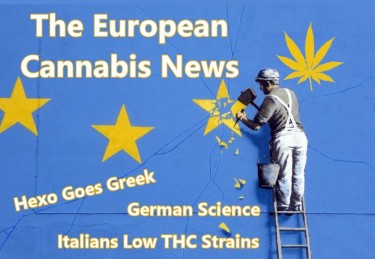 THE EUROPEAN CANNABIS NEWS REPORT, READ THE UPDATE!